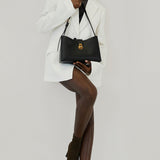 The shoulder bag crafted from Nappa leather, the geometric shapes and the soft matte-finish Nappa leather draw clean lines. The front flap with its decisive outline and C.Paravano clasp in golden finish confirm its modern elegance. That becomes the finishing touch to the whole design.

Color: Black
Composition: Nappa leather
Free standard shipping on all orders. An average shipping interval for standard delivery is 5-14 working days.
GET THE LOOK